Home
Ministry In Action
Lulu's Story
We stop and ask ourselves often, should we keep going to Haiti?  Should we just send money, sponsor children, take a break?  Questions come out of hard work and fatigue to keep the mission running.  Each time we go we see more that we would like to do.   The people of Haiti remind us that it is so important to continue our trips there. Each person traveling with us completely pays their own travel expenses and all fund raising goes towards the projects. That is a big commitment with the number of trips some have taken. It is a journey step by step together.
Piti piti swazo fe niche- Little by little the bird builds its nest.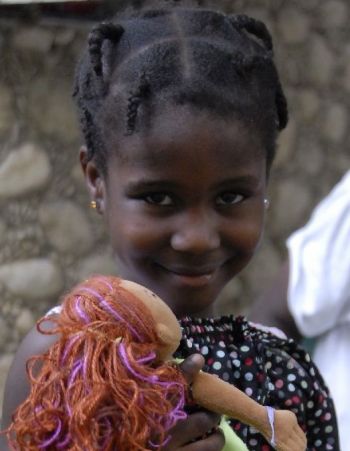 Then we stop and see the face of LuLu. The beautiful smile of a child who almost did not survive.  
The newborn was brought to us one day almost five years ago now.  The mother was not expected to live and the father could not bear to hear the baby's  hungry cry any longer.  He was going to throw her into the river.  He expected that would ease the pain for the child and the future it faced. 
We as a group encouraged him to hold onto the baby and gave him money for supplies to care for her.  He promised he would do this.  We left the following day with heavy hearts for a dilemma we learned was not uncommon in this area.
Each trip we follow up on this child...and continue to see her learn and grow...and smile.  A faithful donor has given this little girl a big opportunity to go to school now.
"Is it worth it?" we ask.  And then we remember the one child and know that yes, for LuLu, it is worth it.
And for every LuLu we see on each trip, and for those many faces that now have a reason to smile, and we know it IS worth it.
And we remember to have hope.  LESPWA is translated from Creole to English meaning HOPE.